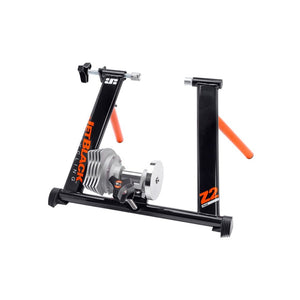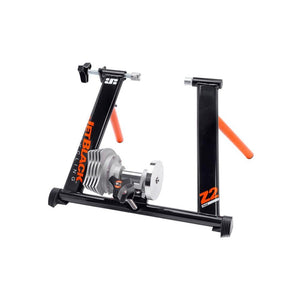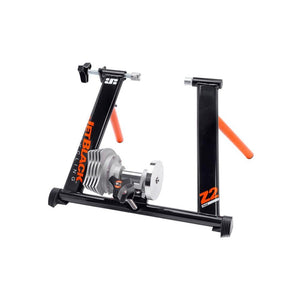 Jetblack Z2 Fluid Trainer
The JetBlack Z2 Fluid Trainer is a high quality, smooth and quiet bicycle trainer that provides a more realistic ride feel than other trainers.
The proprietary fluid in the JetBlack Z2 Fluid increases resistance exponentially up to 900 watts. The faster you spin the harder it gets!



Fluid resistance curve up to 900 watts
Trainer is pre-assembled and ready to ride
JetBlack SQR™ quick release system allows easy mounting and once set remembers your bike position. Set and forget!
Rock-solid design is stable for any size or style of rider and the most punishing of training sessions
Wide base and anti-slip feet keep the trainer still for even the toughest of riders
Wheel compatibility suits road and mountain bike wheels between 700c, 29″, 27.5″, 26″ and many 24″ wheels
Folds into compact shape for easy storage and transport
1 Year Limited Lifetime Warranty
Specifications
Size: 603 (W) x 620 (D) x 393 (H) mm 23.7 x 24.4 x 15.5 inches
Size after folding: 603 (W) x 485 (D) x 170 (H) mm 23.7 x 19 x 6.7 inches
Total Weight: 10.82kgs/29lbs
Resistance System: Fluid
Resistance Levels: Progressive road-like feel
Watts: 900 at 60km/h
Roller Material: Aluminium
Flywheel Weight: 1.5kgs/3.3lbs
Coast down time: 5+ seconds
Axle Compatibility: 130mm, 135mm (QR and Boltup) 12mm x 142mm with trainer axles. Will suit most bikes with axle width 120mm and 150mm
Wheel Size Compatibility: 26", 27.5", 29er, 700c Some 24" bikes