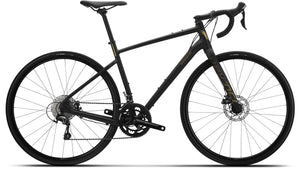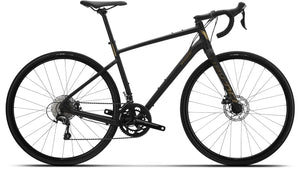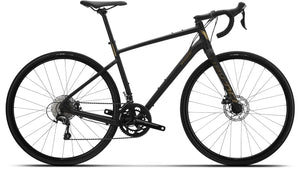 Devinci Hatchet Tiagra 20S
ALL-TERRAIN ASSASSIN
Wherever you roll, Hatchet is willing, able — and highly capable. This versatile, fun-igniting platform merges off-road DNA with a moonshot mindset that shreds Strava gravel, brings the party to Grinduro and even plays nice on pure pavement. Hatchet has 700c x 45mm / 650b x 2.1'' tire clearance, and its MTB-inspired geometry includes a longer top-tube and shorter stem for enhanced handling on loose, technical terrain. When it's time to slow your roll, 160mm flat-mount brakes stop on a dime. Additional details include three bottle mounts (two in the frames, one under the down tube), a top-tube mount for added storage on longer rides/races, discrete rack/fender mounts and a capped-thru axle fork for an ultra-clean look and a lifetime warranty that won't let you down.
TECHNICAL
SPECIFICATIONS
HATCHET TIAGRA 20S
FRAMEAluminum Optimum R03
FORKDevinci Full Carbon
HEADSETFSA Orbit C40 Integrated
SEAT CLAMPAlloy 31.8mm
HANDLEBARV2 Pro 31.8mm R:70mm | D:120mm
STEMV2 Pro 31.8 | 6°
SADDLEDevinci
SEATPOSTDevinci 27.2mm
HANDLEBAR TAPESuper Soft
REAR BRAKE CALIPERShimano RS305 Mechanical
FRONT BRAKE CALIPERShimano RS305 Mechanical
FRONT SHIFTER / BRAKEShimano Tiagra ST-4700
REAR SHIFTER / BRAKEShimano Tiagra ST-4700
ROTORSShimano SM-RT56 160mm
REAR DERAILLEURShimano Tiagra 4700
FRONT DERAILLEURShimano Tiagra 4700
CRANKSETFSA Vero Pro 50/34T
CASSETTEShimano HG500 10s 11-34T
CHAINKMC HG54
FRONT RIMV2 Comp db | 21mm inner
FRONT HUBFormula Disc sealed bearing | QR 9x100
REAR RIMV2 Comp db | 21mm inner
REAR HUBFormula Disc sealed bearings | QR 10x135
SPOKESStainless 14G
TIRESMaxxis Refuse 60tpi foldable 700x32c
Weight
10.96 kg / 24.16 lb
*For a size medium complete bike, weight approximate and subject to change.