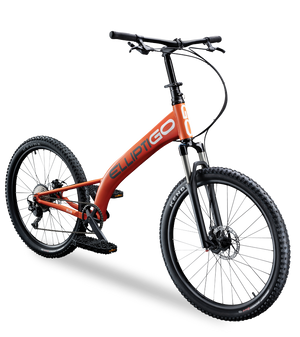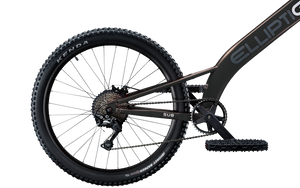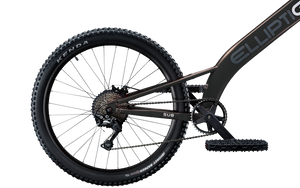 ElliptiGO MSUB
The Mountain Stand Up Bike takes stand up cyclists where they've never gone before: off-road. From dirt trails to urban landscapes, this cardio-chameleon allows riders of all levels to customize where they GO. Accept any challenge with knobby, 27.5" tires, smooth, 100mm front suspension, and high-performance disc brakes. New adventures await with the comfortable, fun and hyper-efficient workout experience you expect from ElliptiGO bikes. Whatever your mountain, climb it with the MSUB.
*available in Matte Black, picture not shown. Email us to special order in Aqua or Orange *
COMFORTABLE FOOT PEDALS
Enjoy a secure, steady and powerful ride with our specifically-engineered foot pedals.
BUILT TO MATCH YOUR STRIDE
The MSUB is designed specifically for riders who rise up to ride. Enjoy a comfortable, upright posture and full body workout.
BIG TIRES, BIG ADVENTURES
The MSUB brings 27.5" tires to the SUB family, with versatile, durable tread. Stay smooth on hard pack and rock. Dig through loose dirt and loamy conditions. This tire allows the MSUB to do it all.
COMFORT AND CONTROL
Ride confidently with smooth 100mm suspension and high-performance disc brakes.
10-SPEED ALLOY FREEWHEEL HUB
The 10 gears provide a large range of resistance, allowing you to climb up to 20-30% grades and sprint at speeds of 20mph+.
GUTSY COLORS
A bike this unique deserved an eye-popping color palette: matte black, aqua and orange.