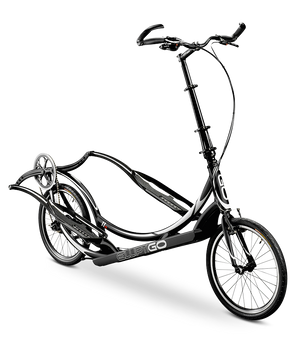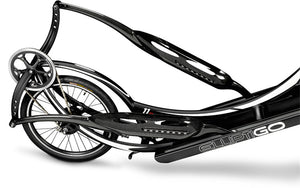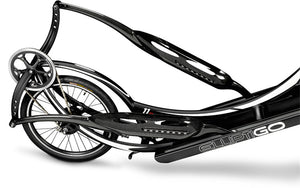 ElliptiGO 11R
For the ultimate in elliptical cycling performance, choose the ElliptiGO 11R. With carbon-fiber drive arms and 11 gears, the 11R is the lightest, smoothest and most versatile long-stride elliptical bike in the world. Whether you are tackling an epic endurance ride or hammering through a speed session, the 11R delivers the power and performance you need to succeed. Make no mistake – the 11R is one comfortable ride, but it was built to compete. Give it your all.
LONG STRIDE LENGTH
With a maximum length of 25 inches, you get a full range of motion and balanced muscle activation, making it possible to comfortable tackle any ride.
16"-25" Adjustable Stride
Four adjustable stride-length settings allow you to adjust the bike to your desired range of motion for the optimal riding experience.
LONG FOOT PLATFORM
An elongated foot platform allows you to adjust foot placement, targeting different muscle groups and letting you fine-tune your position on the fly for comfort and performance.
CARBON-FIBER DRIVE ARMS
High-tech carbon fiber reduces weight and road vibration, giving you the smoothest ride on the road.
FOLDING STEERING COLUMN
Using a hinged quick-release, the folding steering column provides a sturdy ride and makes it fast and easy to adjust the height for any rider or to transport the 11R in a vehicle.
ERGONOMIC BAR-ENDS
Adjustable bar-end extensions offer greater versatility in adjusting your riding position on the fly for climbing hills, sprinting flats or cruising descents.
CUSTOMIZABLE SETUP
Compatibility with a variety of traditional bike and ElliptiGO-specific accessories allows you to deck out your bike with the gear you need to tackle any situation on any ride.
11-SPEED INTERNAL HUB
The 11 internal gears reduce maintenance and provide the largest range of gears, allowing you to conquer the steepest of hills and ride faster and farther with the greatest comfort.
INDOOR/OUTDOOR
Compatibility with many stationary trainers lets you train year-round, either outside on the road or inside when the weather is bad.
SYSTEM SPECIFICATIONS
Wheelbase

 

54″ (137cm)
Total Length

 

75″ (190.5 cm)
Weight

 

39.4 lbs (17.9 kg)
Operating Height

 

50-58″ (127-147 cm)
Storing Height

 

35″ (89 cm)
Storing Height

 

27″ (70 cm)
Crank Length

 

6.75 – 10.5″ (171 – 267mm)
Gears/Speeds

 

11
Total Gear Range

 

409%
Avg Gear Step

 

14%
Gear Ratio Range

 

.527 – 2.153
Gear Inch Range

 

29 – 118
Gain Ratio Range

 

1.4 – 5.6
Stride Length

 

16-25″ (41-64 cm)
Stride Height

 

2.4 – 5.8″
COMPONENTS
Front and Rear Brakes

 

Avid Single Digit 7 linear pull rim
Grips

 

Ergon GC3 multi-position
Cranks

 

Custom forged aluminum with VSL
Frame

 

7005-T6 Aluminum
Fork

 

20″ butted chro-moly with 1.5″ steerer
Brake Levers

 

Avid Speed Dial 7, two finger levers
Propulsion System

 

Patented Elliptidrive technology
Drive Arms

 

Multi-modulus carbon-fiber monococque
Track System

 

Integral with modular inserts
Chainring

 

52-tooth, 130 BCD, 6061 – T6 aluminum
Bottom Bracket

 

Isis drive, sealed bearings
Sprocket

 

18-tooth
Hub

 

Shimano 11-speed internally geared hub
Steering Column

 

Adjustable, roto-lock safety technology
Steering

 

Forged Aluminum, anti-rotation indexing
Headset

 

1.5′ threadless
Kickstand

 

Dual leg, forged aluminum kickstand
Tires

 

Kenda Kwest, 20″ x 1.5″ 60 TPI, 100-psi
Handlebar

 

Alu. MTB riser bar, 50 mm x 670mm
Stem

 

Forged aluminum, 120mm x 7 deg.
Shifter

 

Shimano Alfine SL-S700 trigger shifter
Front Wheel

 

20″ aluminum aero profile rim, 28-spoke
Rear Wheel

 

20″ aluminum aero profile rim, 32-spoke
PERFORMANCE
Climbing Activity

 

Sprinting Speed (flat terrain)
Recommended Riding Terrain

 

Flat and hilly terrain
Cruising Speed

 

(flat terrain) 15 mph (24 kph)
Sprinting Speed

 

(flat terrain) 23+ mph (37+ kph)
Workout Resistance Selection

 

11 different levels of resistance. 409% total resistance range. 14% difference between levels