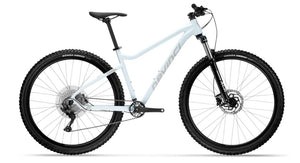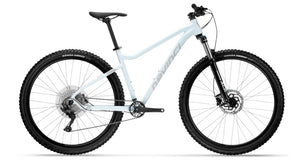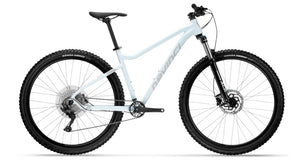 Devinci Riff Deore 10S
Whether it's Monday's concrete commute or a weekend's worth of unpaved exploration, Devinci's new Riff 29 is a truly versatile accomplice. The anatomy of this sporty XC starts with a bomber aluminum build, coupled with a capable 29" stance that makes easy work of roots and rocks, as well as curbs, potholes, stairs and wayward pedestrians. With a lifetime warranty and a sticker price that won't crimp your accounts, the Riff is ready for whatever you got.
TECHNICAL
SPECIFICATIONS
RIFF DEORE 10S
FRAMEAluminum Optimum G02
FORKSR Suntour XCR Air LO-R-DS 100mm w/Lock-out
HEADSETCH-6201-1 Zero Stack
SEAT CLAMPAlloy 31.8mm
HANDLEBARV2 Comp 31.8 Riserbar 15mm | 720mm
STEMV2 Comp 31.8 | 0°
SADDLEDevinci
SEATPOSTDevinci 27.2mm
GRIPSKraton
FRONT BRAKEShimano MT200 Hydraulic
REAR BRAKEShimano MT200 Hydraulic
ROTORSShimano RT26 160mm
REAR DERAILLEURShimano Deore M5120 10s
REAR SHIFTERShimano Deore M4100 10s
CRANKSETAlloy 2pcs 28T Narrow Wide
CASSETTESunrace 10s 11-46T
CHAINShimano HG54
CHAIN GUIDECD-04D
FRONT RIMV2 Comp db | 24mm inner
FRONT HUBFormula Disc | QR 9x100
REAR RIMV2 Comp db | 24mm inner
REAR HUBFormula Disc | QR 10x135
SPOKESStainless 14G
TIRESKenda Amrak 29x2.40
Weight
14.38 kg / 31.70 lb
*For a size medium complete bike, weight approximate and subject to change.