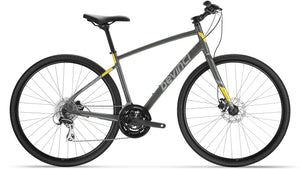 Devinci Milano Acera 24s
Trading a gas pedal past for a cleaner, powered-by-you future was the inspiration behind Devinci's Leisure Series lineup. That and—of course—making everyday outings even more fun. Optimum GO2 builds bring reliability and confidence-inspiring features to casual countryside excursions or mandatory mid-town romps. Rear rack, fender, and kickstand compatibility enhance versatility across all models. And final-touch details such as a premium finish bolstered by clean, internal cable routing bring it all home in a sleek, stylish package. Your perfect ride starts here.
FRAMEAluminum Optimum G02
FORKDevinci Aluminum Optimum G02
HEADSETUpper: FSA No.28 EC | Lower: FSA IS-3 IS
SEAT CLAMPAlloy | 31.8mm
HANDLEBARDevinci | B:25.4mm | R:20mm | W:640mm
STEMDevinci Adjustable | B:25.4mm | 0-60°
SADDLEDevinci
SEATPOSTDevinci | 27.2mm
GRIPSDevinci Ergo Comfort
FRONT BRAKETektro HD-M285 | Hydraulic
REAR BRAKETektro HD-M285 | Hydraulic
ROTORSStainless | 160mm
REAR DERAILLEURShimano Acera M360 | 8s
FRONT DERAILLEURShimano Tourney TY710 | 3s
FRONT SHIFTERShimano M315 | 3s
REAR SHIFTERShimano M315 | 8s
CRANKSETAlloy | 48/38/28T
CASSETTESunrace | 8s | 11-34T
CHAINKMC Z | 8s
FRONT RIMV2 Comp db | 18mm inner
FRONT HUBFormula Disc | QR 9x100mm
REAR RIMV2 Comp db | 18mm inner
REAR HUBFormula Disc | QR 10x135mm
SPOKESStainless 14G
TIRESKenda K1170 | 700x35c
Weight
12.50 kg / 27.56 lb
*For a size medium complete bike, weight approximate and subject to change.